Bremner's Vancouver Vertical KM Series - 2022 Summer Results and Final Wrap up
Oct 3 2022

Hello everyone,

It's finally over. Thank you to everyone who made this a special series. You're all amazing!

A 120 day odyssey and an incredible 498 VK's (last year 455) by all our 38 active participants (15 of which did 10 or more VK's).

Well we did actually crack the 500 mark as at least one of our competitors didn't submit their efforts in this year's series and competed in private. That's ok, but a note on that, the reason being is that some of the fast times posted by our competitors can feel confronting to athlete's who aren't as quick. The good news is that the competitor in question let me know how much they enjoyed the series and lowered their time significantly as it went on. Awesome!

The worst thing any athlete can do is compare themselves to others - but at the same time, we use these comparisons to judge where we are at. It can feel daunting when others seem so far ahead. There is a positive and negative component to this, on one hand we can use it as motivation to improve and get out the door, but also it can impact on one's self esteem.

For the most part, almost all our competitors are competing for personal achievement and list checking rather than "racing." Which is really such a personally relative thing. A handful of our competitors compete just for speed, but after two years of this series it has really boiled down to most people wanting to learn and experience new trails around town and use the series as a way to train for other goals and ambitions. Speed is only one small component of what this series really entails. There is something in it for everyone of all ages, abilities and fitness levels. The series really helps some people narrow down on fixed goals that are still relatively challenging and confronting, with 20 courses on offer of contrasting challenges, its certainly enough just to participate and try to do as many as you can manage.

On this note, the series has been a great success and anyone who has tried at least one VK should be proud of their accomplishment. Yes, there are some incredible endurance athletes (such as the one's we'll discuss in a moment), but try to focus on how they are an inspiration and use that to fuel your own growth. There is no shame in going slow and taking time and patience to develop. In life, you're either going forward or backward with fitness, so simply turning up is always moving forward positively.

So, even if you're going slow - that's a good thing in the world of endurance sports. Endurance performance is built by a lot of volume of low intensity training. This helps to develops more high quality and higher density of mitochondria (the powerhouse of your cells), primarily in your slow-twitch muscle fibers that contribute the most to endurance performance. High quality mitochondrial density also holds back the aging decline so its something to really focus on developing. VK's when run fast also help develop your fast-twitch muscle fibers but also require a lot of slow-twitch development since a VK still requires endurance even when going fast. By doing a lot of slow training on something like a VK course, you will really improve your endurance and performance in all other activities. You don't need to suffer and push yourself hard all the time. An easy VK is still a VK worth-doing - and a hard one at high intensity is a good challenge once in a while.

The most important thing is getting out the door and doing your best. We'll be back again next year to support your efforts - and really the only challenge is the one against yourself.

If you're looking to get stronger or you've struggled with any facet of the series, such as pacing, aches/pains/ or getting injured, navigation and so on, myself (James Stewart) and Brian Clements (VK Series Ambassador) are here to help you - so if you're lurking behind the scenes struggling in finding success on your own, please get in touch (now or in the future) and we're more than happy to help you improve and move forward positively in your health and fitness journey with advice, guidance, or even coaching. We are here for you not only during the series but at anytime.

If you're really interested in performing better, I coach athletes of all ages and abilities. My coaching service has really grown significantly over the past three years and I have many happy athletes. I recently gained Ultrarunning certification with UESCA, so even if your interest is not just in VK's I can also help you prepare for races of any distance from VK to Ultramarathons and everything in between. I have a secret weapon in my coaching paradigm and VK's are a core component of developing the capacities needed to stand out from your peers who aren't taking full advantage of developing climbing efficiency to its fullest. The better you climb, the less energy you waste, and the more resilient your biomechanics can become, which has advantages across all forms of trail racing. If you're just trying to get healthier and don't care about racing, then please still consider signing up. More than half of my clients don't compete in racing (or its not a core focus), and some are just beginning their trail running journey too.

Multiple competitors in this years series are actually Couch->Summit Performance coaching clients! Please check it out at: http://www.couchtothesummit.com/coaching

Next year I'm likely to run the series with Free Entry (with optional entry-free donation) to try and encourage greater participation. I'll be working on improved communication surrounding the series to try and address some of the hesitancy in people in getting involved. Anything you can do to help promote the series is welcomed tremendously - especially in March-May next year by spreading the word.

On this point, I am asking for testimonials to help with this - if you would like to share your experience in the series please write a testimonial and send it through to support@verticalkm.ca. It can be as short or as long as you like. Anything helps.

We aren't looking to change the series concept - maybe some refinements to power ranking points. In future we are looking to add some more VK's from the Tri-cities area but not sure how or if that will fit into the 2023 series. Please let us know if you have any suggestions or feedback about the series concept.

Also stay-tuned as I am looking at creating a free winter challenge series beginning in January. It won't be about VK's but it will be about vertical and helping to develop your capacities for next year's series!

Finally, a special thanks to our amazing sponsor Bremner's Foods without them we never would have got this series off the ground. Thank you Terry Bremner and team! If you haven't tried their juices, you haven't experienced the difference that quality makes! They are one of rare juice companies in the world that only use A-Grade fruit. Most juice companies use poorer grade fruit that isn't sellable on its own and worse still, a lot of juices are just made from concentrate. Neither great in taste or good for your health. There's juice that's bad for you, and there's also juice that is really really good for you. Once you've tried a Bremner's Cranberry or Blueberry juice, you will notice a massive difference in taste and quality compared to other juices, and they are packed with antioxidants. There are pounds of high-grade blueberry's concentrated in every bottle - it revitalizes you so well.

----- POWER RANKING RESULTS -----

Wow! What an incredible finish to the series for 2022 in the power ranking competition.
TOP 10 FINAL RESULTS
55225    1st   Brian CLEMENTS
51850    2nd   Tim WIENS
33475    3rd   Sue IRONSIDE
28700    4th   Jennie LABRIE
23025    5th   Curtis JUNG
21425    6th   Rudy KAROLA
20600    7th   Justyna MATRACKI
16825    8th   Polina ANDREYCHENKO
7600    9th   Cam YORK
6675    10th   Florence PERRIN

If you haven't caught up on the news Brian Clements out strategised Tim Wiens on the final weekend for the power ranking championship - securing his crown for the second year running. Brian finished on 55225 pts compared with Tim's 51850 pts. What a battle and congratulations to our back to back champion Brian!! It's going to take a serious challenger to Brian to stop a three-peat in 2023!
So what happened!? Tim Wiens led for basically the entire 4-months but lost the lead on the final weekend of the series as Brian took full strategic advantage of the end of series bonus point allocations on offer. Brian kept his cards close to his chest but played a strong final hand.
This year to encourage competitors to focus more on the harder backcountry courses in the Headwaters and Sea to Sky groups (that were not hugely popular in 2021), I offered increased points for efforts in those groups. The person who climbs the most courses in each course group are awarded 1000pts at the end of the series, but for the Headwaters and Sea to Sky groups 2500pts were on offer.
Coming into the final weekend, Brian had the Sea to Sky group bonus wrapped up with his 10 efforts to Tim's 6. But Tim had Brian beat on the Headwaters group with 9 efforts to Brian's 4. In essence, Brian and Tim's advantage over each other was cancelled out in this scenario with both getting 2500 points. Had it remained this way, Tim would have become our new champion.
Brian - however - took his opportunity to take away Tim's 2500 Headwaters bonus by climbing 6 VK's in the Headwaters group over two days on Friday and Saturday with back to back Triple VK efforts on the hardest technical and time demanding courses in the series. On Friday, he climbed Pins and Needles 3 times and on Saturday he climbed The General + Gladiator + The General again. This put him in the lead for the Headwaters group with 10 efforts to Tim's 9. By doing this, it secured the full 5000 pts on offer for those two groups and saw Brian prevail.
Tim could have blocked Brian in several ways, but ultimately focusing more on the Headwaters group to push it outside of Brian's reach would have been the best strategy. None of this should take away from Tim's impressive performance in 2022.
Tim climbed 80 VK's across the 120 days of the series or an average of ~4.5 VK's a week - which is a new record for the series. Last year Brian Clements climbed 55 VK's. Tim is our worthy 2022 champion for most VK's in the series! Congrats Tim!!
In comparison, Brian climbed 57 VK's in 2022, 23 less than Tim, but Brian's effort is a highly impressive performance and even more notable than last years. A lot less VK's should not discount Brian being a fully deserving Power Ranking champion for 2022. Brian played the strategy impressively well, but to beat Tim it still required some insane performances on the trails.
Tim took advantage of the Grouse tram to avoid the descent on a bunch of his VK attempts as he climbed a whopping 45 VK's in the Grouse VK group alone. This focus increased his VK count but it was not enough to put himself safely out of reach of Brian if Brian decided to focus strategically on the harder courses (which he inevitably did). By comparison Brian only climbed 14 VK's in the Grouse group and descended on his own feet for almost all of his attempts in the series. In terms of hours spend on the trails for the series Tim and Brian are likely relatively close and either one of them would be deserving champions.
Brian climbed 20 VK's in the Headwaters and Sea to Sky groups (compared to Tim's 18), including "3 VK's in a day" 5 times during the series. Tim never did 3 in a day, but did do 2 in a day 16 times mostly on the Grouse courses. Ultimately, Tim's advantage with more VK's was eroded by Brian's 3 VK's in a day bonuses on hard courses. Doing 3 or more VK's in a day is a very difficult effort as anyone who has done a single VK knows that the long downhill saps all the energy out of the legs making any subsequent climbs a huge challenge. Doing them on the hardest technical courses requires high mental fortitude and stamina. Thus, Brian's triple's and long days on those hard courses are now part of VK folklore here in Vancouver.
Just on a side note, Brian is coaching client of Couch->Summit Performance Coaching - and incredibly he does not eat during his efforts - even the long ones! (unless there are trail berries) instead waiting to get home to a well-deserved feast.
And also a note for our third place Sue Ironside. Sue was neck and neck with Brian for a long duration in the series, but she ultimately focused on speed over volume. Had she focused on volume she could have had a cracking chance at winning combined with her speed (gaining bonus points there too), but its hard to focus on both speed and volume in the one series. We're all only human after all! Great work Sue!
----- VK "CLIMB TO THE STRATOSPHERE" ULTRAMARATHON RESULTS -----
Congratulations to our 8 finishers in 2022 that join the Hall of Fame for their incredible effort in the Ultramarathon (finishing all 20 courses!). They are:
M1 M30-1 Curtis JUNG 18:05:02
F1 F40-1 Sue IRONSIDE 21:11:46
F2 F30-1 Jennie LABRIE 23:20:55
M2 M60-1 Tim WIENS 23:47:17
M3 M50-1 Brian CLEMENTS    27:05:35
F3 F30-2 Polina ANDREYCHENKO 28:42:00
F4 F30-3 Justyna MATRACKI 33:44:24
M4 M70-1 Rudy KAROLA 53:14:10

Congratulations go to Curtis Jung and Sue Ironside on their win's and to all 8 finishers. This is a really hard achievement and thank you to all 8 for putting in the work and getting it done.
Last year's winning times were 20:29:01 M1 Peter BREMNER and 20:47:45 F1 Keri MCKENZIE. Curtis now has the new course record by 2hrs and 24 mins, while Sue fell 24 mins short of toppling Keri's time.
Tim Wiens and Jennie Labrie are the 2nd place runners up with Brian Clements and Polina Andrychecko filling out the podium for 3rd.
----- VK "EVEREST SUMMITS" MARATHON RESULTS -----
Congratulations to our 8 finishers in 2022 that finished the 10 hardest courses in the series. They are:
M1 M30-1 Curtis JUNG 9:13:49
F1 F40-1 Sue IRONSIDE 11:05:15
F2 F30-1 Jennie LABRIE 11:37:21
M2 M60-1 Tim WIENS 11:56:37
M3 M50-1 Brian CLEMENTS    14:21:51
F3 F30-2 Polina ANDREYCHENKO 15:15:58
F4 F30-3 Justyna MATRACKI 17:43:35
M4 M70-1 Rudy KAROLA 29:03:05

Congratulations again go to Curtis Jung and Sue Ironside on their win's!
Last year's winning times were 10:49:41 M1 Peter BREMNER and 10:50:47 F1 Keri MCKENZIE.
Curtis has once again set a new course record by 1hr36mins while Sue fell short of Keri by just under 15 minutes.
Tim Wiens and Jennie Labrie are the 2nd place runners up with Brian Clements and Polina Andrychecko filling out the podium for 3rd.
----- VK "EVEREST ADVENTURE" MARATHON RESULTS -----
Congratulations to our 11 finishers in 2022 that finished the 10 easier courses in the series. They are:
M1 M30-1 Curtis JUNG 8:51:13
F1 F40-1 Sue IRONSIDE 10:06:31
F2 F40-2 Florence PERRIN 11:20:00
F3 F50-1 Tamara WOOLGAR 11:22:29
F4 F30-1 Jennie LABRIE11:43:34
M2 M60-1 Tim WIENS 11:50:40
M3 M50-1 Bob FRAZER  12:13:18
M4 M50-2 Brian CLEMENTS  12:43:44
F5 F30-2 Polina ANDREYCHENKO 13:26:02
F6 F30-3 Justyna MATRACKI 16:00:49
M5 M70-1 Rudy KAROLA 24:11:05

Congratulations once again go to Curtis Jung and Sue Ironside on their win's!
Last year's winning times were 09:39:20 M1 Peter BREMNER and 09:56:58 F1 Keri MCKENZIE.
Curtis has once again set a new course record by 48 mins while Sue fell short of Keri by 20 minutes.
Tim Wiens and Florence Perrin are the 2nd place runners up with Bob Frazer and Tamara Woolgar filling out the podium for 3rd.
----- VK GROUP CHAMPIONS RESULTS -----
Curtis Jung proved himself the superior VK speed athlete this year by his clean-sweep of all six course groups and setting course records. Congratulations Curtis on an amazing series and working so hard on all the courses!! It truly takes a lot to not just finish all 20 courses but to race them all fast, and this is a note-worthy achievement.
It wasn't a clean-sweep in the female field with Sue Ironside winning five out of the six, with Jennie Labrie securing the win in the Fromme course group. Sue should also be commended on finishing all 20 courses at pace too!
You are both deserving of the top places for times in our series.
Grouse Group Winners:
4:16:19 M1 Curtis JUNG 4:52:01 F1 Sue IRONSIDE
Skyline Group Winners:
2:44:04 M1 Curtis JUNG 3:09:59 F1 Sue IRONSIDE
Fromme Group Winners:
2:49:26 M1 Curtis JUNG 2:56:54 F1 Jennie LABRIE
Headwaters Group Winners:
3:03:12 M1 Curtis JUNG 3:31:03 F1 Sue IRONSIDE
Cypress Group Winners:
1:50:50 M1 Curtis JUNG 2:04:31 F1 Sue IRONSIDE
Sea to Sky Group Winners:
3:21:11 M1 Curtis JUNG 4:25:26 F1 Sue IRONSIDE
----- CHAMPIONS AND PRIZES -----
For their efforts in the series - finishing atop the leaderboards in one or more categories - the following competitors will be each awarded a prize from Bremner Foods:
* Brian Clements
* Tim Wiens (VK total winner and power ranking runner-up)
* Curtis Jung
* Sue Ironside
* Jennie Labrie
Thank you for participating and we hope to see you all back next year.
James Stewart
Race Director - Bremner's Vancouver Vertical KM Series
Bremner's Vancouver Vertical KM Series - September Series Update
Sep 2 2022

Hello everyone!

We have one month to go in the series - thank you to everyone who has participated thus far and have helped to promote the series to their friends and followers. Now the weather is cooling off a bit, the bugs are dying off, and the fall colours begin, September is a fantastic time to hit the trails for your final efforts before the rain (and snow at high places) comes back in October! Make the most of it, it will be here before you know it!

We've been especially grateful to the people who have made the effort to buy the race singlets and promo the series in the field with such enthusiasm this year - and also to those who have been posting the series link and photos on their Strava efforts. I've attached some photos to this post of some of those great pics so far.

Thank you so much and every little bit helps to sustain the viability of this series into the future. Unfortunately, the series registration numbers didn't improve this year and almost half the people who signed up haven't participated. Things are not really heading in the right direction with participation rates but we still hope to carry on in 2023.

A lot of people love the concept (some addicts - you know who you are), and we thank you to those who made the effort to get out there this summer and also for those who helped trying to get the word out - it is so much appreciated!

One option is to open the series up for free next year and subsidize the series at a loss to encourage more participation, as we are sure vertical KM racing in Canada can take off one day and we are willing to back the concept. However, financial doesn't really seem to the barrier from what I am hearing back, but moreso lack of interest. The challenge is that the race calendars are full again and worldwide travel is open with plenty of race options again. But that should not preclude competing as maybe enough athletes don't see the benefit in doing VK's for training as tune-up and performance increasing efforts for other races!

The other thing is the social side of things - going out alone is not kosher for many people. We may offer in-person races as part of the series next year (fat-ass style) but the numbers currently don't stack up to go down the road of the cost/time involved for permitting/in-person official races with the current low-interest in the concept. We're looking into it, but it's not viable yet. Also most people who competed this year are not racing for fast times, but for adventure, exploring new trails, social aspects, and training volume. We'll see what we can come up with for 2023, as always if you have any ideas or suggestions, I'm welcome to hearing them.

----- WE'RE HERE TO HELP AND GET YOU STARTED -----

Haven't done a VK yet? Don't know where to start? Need a guide?

Brian Clements has done as wonderful job as our VK series ambassador in 2022. If you need any advice on the trails, want him to guide you on a VK you're not comfortable with doing alone ... then he's more than willing to help out any beginner or new folks keen to hit some VK's in their future.

Get in touch with Brian at brianjclements11@gmail.com or 778-229-9158

----- BENEFITS OF VK's -----

If you are on the fence about getting more involved with VK's or you need to help educate your friends here are some notes:

VK's are a short VO2 Max workout that does not interfere with your longer racing ambitions and can actually significantly improve your performance in them and increase your longevity as an athlete! That is why European athletes tend to outperform North American athletes in mountain races and over a longer running career (on the whole - there are exceptions to every rule!). Most top level ultramarathon runners can also run very fast VK's close or equivalent to world-class standards.

In my own experience, simply training for VK's obsessively over a number of years allowed me to finish with a very respectable 21st out of 2000 people in the 2015 Mont Blanc marathon in Chamonix in a highly competitive world class field. That result was without any long runs and focused training on that distance prior! If I had just focused on marathon training without the VK training I doubt I would have even achieved that result. I noticed that higher altitude didn't really bother me in European races, compared with my Australian peers who all seemed to struggle with it. The difference was, I was the only one focused on the VK side of things back home in Australia with our distinct lack of high altitude mountains.

Most people just thing of uphill training for its aerobic benefits (which are fantastic), but actually the mechanical benefits are just as important (maybe moreso)...

Trailrunnermag.com recently posted an article titled, "VO2 Max Output As A High-Performance, Anti-Aging Superweapon" (need membership access to read it) which noted:

* Output at VO2 max while climbing (measured via grade-adjusted pace) may have a high predictive value for athlete progression and regression over time, particularly with age.

* The metric likely is a proxy variable for limitations of mechanical output that are faced by some athletes from the start of their running journeys, and confronted by all athletes with age.

* Constant reinforcement of the metric may improve performance at all effort levels, including long ultras, and can seem to reverse the athletic decline process in some cases.

"Why is that significant for an athlete competing in longer races? Think back to the experienced 60-year old athlete who progresses a bunch with short hill intervals. Their VO2 max number likely can't change much at that point of their athletic journeys, but we think that their mechanical output can. And because mechanical power is a strong performance indicator at all efforts in aging athletes, it doesn't matter that the short hills are non-specific to their race distances. It's the highest-yield stimulus for output, and it pushes back the strongest against the inertia of aging, so they get faster at everything. If you're 50+, I think that you can take that to the bank. Focus on mechanical output/strength alongside aerobic development, and you'll be rich as hell. "

"But the practical takeaway is this: we have seen that if an athlete can improve their output around VO2 max on hills, they can counteract – even reverse – part of the athletic aging process at all distances. The reason that the short hills should lead to more broad-ranging development is that athletes accumulate lots of aerobic work over time, and those lower-level aerobic gains accumulate. The aerobic system can continue to improve, but for many athletes, it runs into a ceiling that we think is often set by mechanical output. If you raise that ceiling, there can be a positive feedback cycle where improved mechanical output allows the improving aerobic system to translate to better running economy, which improves mechanical output more, and so on."

You can use VK's at low intensity to build more volume on the hills, the increased mechanical strength and mitochondria development makes you a more efficient climber in longer races. So you chew up less of your energy reserves on the climbs that give you more power and endurance over the rest of the course.

You can use VK's to do your high intensity VO2 max intervals to increase mechanical power and VO2 Max.

You can use VK's as shorter race pace efforts to increase your lactate threshold (ability to hold fast paces for longer).

All three intensities effectively significantly hold off aerobic and mechanical decline as you age as an athlete. The best plan, is to do all three modalities - a lot of low intensity volume in the early season base building, then stack on some shorter intervals in the late base period, and then some race pace efforts later in the season prior to key races to gain peak fitness.

----- SERIES UPDATE -----

Tim Wiens was running away with the Power Ranking competition after completing all 20 courses, not once, but twice! But it all heated up last week when last year's power ranking champion Brian Clements laid down probably the most impressive performance seen in the two years the series has operated with two back to back triple VK a day efforts on the most remote and difficult courses in the series. It also saw Brian complete all 20 courses and roar up the leaderboard with a significant 10000+ point gain in a single day to land within 1000 points of Tim. This has caused Tim to get out with a few efforts this week to surge ahead once more. We look forward to watching this battle unfold over the next month as there won't be any room for complacency.

Four people have now finished the Climb to the Stratosphere VK Ultramarathon by completing all 20 courses. Sue Ironside leads overall and for the women with a time of 20:09:35 and Tim Wiens for the men with 24:02:59. Four more people are within 6 courses of getting the job done, the closet being Curtis Jung who has three more courses left to finish and is close to overtaking Sue for the overall.

Sue and Tim both lead the VK Everest Summits Marathon for the 10 most difficult courses in the series. Curtis Jung leads the VK Everest Adventure Marathon on the 10 easiest courses with a time of 8:51 to Sue's 10:06.

Sue is doing a great job on the Group Standings table leading 5/6 rankings, but Jennie Labrie has taken the lead in the Skyline VK Group and threatens Sue on the other tables if she keeps up the fight.

Curtis is also doing a great job on the Group Standings table, leading the Fromme, Grouse, Skyline and Cypress groups for time. Tim Wiens leads on the Sea to Sky and Headwaters courses but Curtis is on the hunt with three more courses to complete he looks like he'll get the clean sweep.

----- BREMNER FOODS -----

Thank you again to our Sponsor Bremner Foods! Did you know Bremner's boss Terry Bremner (at age 100 - we think?) was the sole finisher in the "Buck Me This Goat is Knackered" competition this year (yes there is a trophy). With three consecutive 50Ks in three weekends. Knee Knacker: 09:02:23; Broken Goat: 10:47:29; Buckin' Hell: 9:33:12. Congrats Terry!

A perfect way to recover from a VK is with a refreshing high quality premium juice. Their juices are distributed in over 400 grocery, drug and health food stores such as; Save-On-Foods, Urban Fare, Price Smart Foods, Whole Foods, London Drugs, Thrifty Foods, Choices, Quality Foods, Stongs, select IGA's and Real Canadian Superstore plus many more! Terry Bremner sponsors many local running events including Knee Knacker and Coast Mountain Trail Running events and our very own VK Series. Without his support we never would have been able to get off the ground with this series. So if you enjoyed the series, please support his fantastic local business as thanks!
Bremner's Vancouver VK Series - Back for 2022 and Open for Registration
Jan 24 2021 - 9:30pm

We have great news to report, the Bremner's Vancouver Vertical KM series is back for 2022 with a new and improved format. If you plan to return in 2022 - thank you for your fantastic support!

One of the shortfalls for last season was getting the word out, so even if you don't plan on returning for 2022 - if you enjoyed the series, please recommend the race series within your friends circle and social media. We'd really appreciate it!! Hashtag is #vancouvervk

The series begins on Saturday June 4th and runs to the end of the day on Sunday October 2nd 2022.

We have slightly reduced our prices for 2022. The cost is $34 if you register by Feb 28th, $44 if you register by March 31st, and $49 until August 1st.

Registrations are now open through http://www.verticalkm.ca

We haven't made radical changes for 2022 relating to aspects like the courses (there is one course change in 2022), but we have made improvements to the way we format your attempts and rankings, aimed at creating more participation across the entire four months of the series. We have some exciting new races inside the series for you to target including six new regional group races, two "Everest" VK marathons and the "Climb to The Stratosphere" VK Ultra!

Here are a list of our changes:

1. The Power Ranking format remains as per 2021 but some points calculations have been changed.

2. Our original 20 courses remain; however, VK9 Backtrack is replaced due to the washout on the bottom of the BCMC with a new replacement course "VK9 Black Eagle" which starts at the beginning of the Baden Powell Trail on Horseshoe Bay Drive in West Vancouver and finishes on top of Eagle Bluffs. Some of our courses are slightly longer than 5km, so now the series is billed as 20 courses under 6km or less.

3. Navigating the courses is a valid concern for some of our participants. Improvements for 2022 include in-person guided course orientation social hikes led by experienced Team Bremner members each weekend. The tenative schedule for our guided hikes is https://verticalkm.ca/guided-hikes.php and we have tried to avoid conflicts with popular race dates. Please use these group outings to complete a course that you are unsure about and to confidently learn the route for future efforts.

4. Through my Couch->Summit Performance Coaching service, I am offering 3, 4, 5 or 6-month customised VK oriented training plans for purchase to help you prepare for the series. These are very affordable with the cost beginning at $160, and I tailor the plan specifically for your level of fitness, the number of hours you have available to train each week, and to fit in preparation around any other races you may have on the horizon etc... Along with the training plan you receive a detailed training manual that assists you in understanding the training process. You may also wanted to consider more hands on coaching (priced at $130/mth), and you will receive free entry into the series if you sign up. More information on the training plans and coaching (plus training tips) are found here: https://verticalkm.ca/training.php

5. 2021 Course Records remain in play, but there will also be 2022 season records. Now you have two times to try and conquer.

6. Some people found finishing all 20 courses too big a task, and also most people aren't in the running for winning the series overall. Instead, we have come up with a better approach that allows people to target specific outcomes based on their level of fitness and time commitment to the series.

Firstly, we are unlikely to include a single Male and Female series champion as per 2021 format due to lack of engagement regarding the original format we used. Some people didn't understand how the rankings worked and we are removing the complication of it. Instead:-

In 2022, we have categorised the 20 courses into six groups based on regional location - and each regional location stands as its own race series. Instead of a single VK series champion, we will now have winners for each of the VK Series Group Races. The Male and Female winners will be calculated from total aggregate time of every course in the group. You are free to run the same course many times in search of your best performance; only your fastest time will count in the calculation.

The six course groups race series are:
Grouse VK Series Group Race (5 courses - 19.87km 5000m ascent) - Easy
Skyline VK Series Group Race (3 courses - 14.37km 3000m ascent) - Easy/Moderate
Cypress VK Series Group Race (2 courses - 9.77km 2000m ascent) - Moderate
Mt Fromme VK Series Group Race (3 courses - 16.84km 3000m ascent) - Moderate
Headwaters VK Series Group Race (3 courses - 12.21km 3000m ascent) - Difficult
Sea to Sky VK Series Group Race (4 courses - 12.89km 4000m ascent) - Difficult

Each group has a difficulty rating relating to the terrain you will encounter and effort involved. If you are a beginner start with our easiest groups and progress toward the harder ones as you develop your abilities and fitness.

You can compete in a single regional group or across multiple groups during the series - the choice is entirely yours to make. If you only have time to target a handful of courses, you can simply try to win one of these six group races!

7. For those seeking an expanded challenge, new in 2022 we have two "VK Marathon" races that combine our 10 easiest courses and our 10 hardest courses into a single race ranking; along with the new "VK Ultra" that combines all 20 courses. Your goal will be to climb all the VK's listed for the race to determine your overall time. If you complete all courses for the race, you are listed as a finisher, and you win the race if your combined time for all courses is the fastest!

The three new races are outlined below:

* Climb to the Stratosphere VK Ultramarathon (20 courses - 85.95km and 20000m ascent - Difficult)
Climb to the height of the stratosphere by completing all 20 courses. You can see how last year's results look on the leaderboard here: https://verticalkm.ca/vk-ultra.php

* Everest Adventure VK Marathon (10 easiest courses - 44.01km and 10000m ascent - Easy/Moderate)
Climb more than the height of Everest (8849m) by completing our 10 easiest courses from the Grouse, Skyline and Cypress VK Regional Groups. You can see how last year's results look on the leaderboard here: https://verticalkm.ca/marathon-adventure.php

* Everest Summits VK Marathon (10 hardest courses - 41.94km* and 10000m ascent - Difficult)
Climb more than the height of Everest (8849m) by completing our 10 hardest courses from the Mt Fromme, Sea to Sky and Headwaters VK Regional Groups. You can see how last year's results look on the leaderboard here: https://verticalkm.ca/marathon-summits.php

For full information on how the series works click here: https://verticalkm.ca/how-series-works.php

8. Prizes for the new race formats will be determined based on registration numbers and announced once the series commences.

9. The Standings for 2021 remain as per the original format, but we have retrospectively re-calculated the results to determine historical winners for these new race formats. Our retrospective results can be seen here: https://verticalkm.ca/results-summary.php

In Summary the 2021 VK Series Retrospective Race Series Results:

2021 Climb to the Stratosphere VK Ultramarathon Winners and Finishers (Finishers: 4)
The four finishers are now listed in our Hall of Fame. Can you join them in 2022??

20:29:01 M1 Peter BREMNER
20:47:45 F1 Keri MCKENZIE
20:49:06 M2 Patrick HAUNSCHMIDT
22:37:31 M3 Brian CLEMENTS

2021 Everest Summits VK Marathon Winners (Finishers: 4)
10:49:41 M1 Peter BREMNER
10:50:47 F1 Keri MCKENZIE

2021 Everest Adventure VK Marathon Winners (Finishers: 8)
09:39:20 M1 Peter BREMNER
09:56:58 F1 Keri MCKENZIE

2021 Grouse Group Winners (Finishers: 10)
04:35:14 M1 Peter BREMNER
04:41:53 F1 Julia HLYNSKY
https://verticalkm.ca/group-grouse.php

2021 Skyline Group Winners (Finishers: 12)
02:49:30 F1 Keri MCKENZIE
03:02:24 M1 Patrick HAUNSCHMIDT
https://verticalkm.ca/group-sky.php

2021 Fromme Group Winners (Finishers: 7)
03:04:56 M1 Patrick HAUNSCHMIDT
03:28:40 F1 Sue IRONSIDE
https://verticalkm.ca/group-fromme.php

2021 Headwaters Group Winners (Finishers: 6)
03:14:46 M1 Peter BREMNER
03:16:28 F1 Keri MCKENZIE
https://verticalkm.ca/group-head.php

2021 Cypress Group Winners (Finishers: 8) (Note: VK9 Backtrack used in this calculation)
01:57:18 M1 Peter BREMNER
01:59:16 F1 Keri MCKENZIE
https://verticalkm.ca/group-cypress.php

2021 Sea to Sky Group Winners (Finishers: 5)
03:42:33 M1 Peter BREMNER
03:56:50 F1 Keri MCKENZIE
https://verticalkm.ca/group-sea.php

----

Finally, if you're interested in purchasing one of our race shirts, preorder by May 1st for early June delivery. https://verticalkm.ca/race-shirts.php

Thank you for your participation in 2021 and we hope to see you again in 2022.
Final Results
Oct 5 2021 - 6:30pm

FINAL RESULTS

=====================================================================

LUCKY DRAW PRIZE - Minimum 5 VK attempts (29 competitors qualified): Bob FRAZER

Congratulations Bob, you were pulled out of the hat for the lucky draw prize.

POWER RANKING CHAMPION - Brian CLEMENTS with 38575 points and 55 VK's in total. 1st 38575 Brian CLEMENTS 2nd 19425 Keri MCKENZIE 3rd 15791 Peter BREMNER

WOMENS OVERALL CHAMPION - Keri MCKENZIE 1000 points. 1st 1000 Keri MCKENZIE (*15 course records) 2nd 999 Julia Hlynsky (*4 course records) 3rd 972 Sue Ironside (*1 course record)

MENS OVERALL CHAMPION - Mike MCMILLAN 1000 points. 1st 1000 Mike MCMILLAN (*5 course records) 2nd 976 Jordan GUENETTE (*4 course records) 3rd 974 Nigel HOLE (*3 course records)

Congratulations to our four winners who will receive $200 cash prize each: Brian CLEMENTS, Keri MCKENZIE, Mike MCMILLAN and BOB FRAZER.

Brian Clements dominated the series with a fantastic commitment to rolling off the VK's through June and July to take a early commanding lead that was never threatened heading into September. Brian not only climbed the most VK's in the series, he played the series strategically and committed to chasing bonus points for weekly, monthly and series options, and with little competiton swept to an easy victory in the end. With 55 VK's in the end, Brian is certainly the VK king for the summer! Great efforts also by Keri McKenzie and Peter Bremner to land podium spots with their significant commitment to the series.

In the Women's Overall competition Keri McKenzie dominated the women's field with a commanding display of 15 course records. Julia Hlynsky provided stiff competition only 1pt behind in the series ranking, Keri also swept to 2nd place in the power rankings assuring herself victory even if Julia had attained 5 or more course records. Sue Ironside also provided good competiton for Julia and Keri and landed herself 3rd place with 972pts.

The Men's Overall competition wasn't fiercely contested with Jordan Guenette and Mike McMillan going back and forth with their infrequent VK efforts. While Jordan had the fastest times in the series, he didn't achieve 5 course records to match Mike on 1000pts who just did enough to win. It would have been nice to see them challenge each other more, but both of them had other commitments over the summer limiting their involvement in the series. Congrats also to Nigel Hole, Peter Nowicki, Seamus Boyd-Porter and Peter Bremner for posting strong times throughout the series all achieving over 940 pts.

Congratulations also to our four competitors who completed all 20 courses: Peter BREMNER, Brian CLEMENTS, Patrick HAUNSCHMIDT, Keri MCKENZIE. TOP 10 MOST ATTEMPTS 1 55 Brian CLEMENTS 2 40 Keri MCKENZIE 3 30 Peter BREMNER 4 30 Matt EHRENREICH 5 26 Sue IRONSIDE 6 21 Patrick HAUNSCHMIDT 7 20 Meghan MACLEOD 8 18 Andy VERVERGAERT 9 17 Herman ALAGAO 10 16 Bob FRAZER

Final notes:

We aim to bring the VK series back in 2022, but the format is open to change. Please let us know if you have any feedback, ideas or suggestions for the series in the future. Thank you to all who participated and made the series successful.

From all of us at Bremner Foods and Couch to the Summit, we look forward to seeing you again in 2022, have a great Xmas and New Year. For those who are interested, Couch to the Summit will be running a winter vertical series with a format yet to be finalized, and entry will be free. The goal of the series will be to help build fitness over winter to prepare you for next spring and summer. You will receive a final email on that in the coming weeks.

Thanks

James Stewart Race Director - Bremner's Vancouver Vertical KM Series
July 15 Course Update
July 15 2021 - 11:30pm

VK7 Uncaged Lions is now open as of July 15th. Please note there is a little bit of snow still at the top part of the boulder field area of the Lions Binkert trail. This is easily crossable without crampions or ice axe, but please beware of post-holing hazards as it continues to melt. It is possible to skirt the edges of the snow without touching it. However, if you are uncertain please wait 1-2 more weeks for all the snow to melt.

VK9 Backtrack and VK13 Screaming Eagle are now open for attempts at anytime of the week not just weekends. Trail work is still ongoing on the BCMC, so please respect closure signs during week days daytime periods. Attempts before and after working hours are now accepted.

Only two courses remain left to open, the two out near Coliseum Mountain. I am just waiting for the snowmelt to proceed a little bit more before opening them up. Thanks for your patience.
Most courses open now
July 5 2021 - 4:30pm

Today I have opened up all but three of the 20 courses. All the Mt Fromme courses are open along with most of the Sea to Sky courses. VK4 Lost Limb, VK5 The Glorious, VK17 Slipstream, VK19 Speedweaver and VK20 Mosquito Bite have opened today. However, I have yet to film and complete the photos and detailed instructions for these courses. If you are confident of navigating off the GPX file and course map then please get out there and tackle the courses! If you are unsure of the routes, please be patient while I get out there and hike all the courses to complete the navigation instructions for you. Thanks for your patience!

VK3 - The General, VK7 Uncaged Lions and VK14 Gladiator remain closed awaiting the final snowmelt to complete. We hope to open these final courses in the coming fortnight
Course instructions and videos updated
June 28 2021 - 11:00pm

Apologies - due to illness, I've been unable to finish the course instructions for a number of currently open courses until tonight. Thank you for your patience

Course instructions, strava segment links, video walkthroughs and GPX download links have been updated for VK9 - Backtrack, VK10 - Extra Credit, VK12 - Grousewoods Grind, VK13 - Screaming Eagle, and VK16 - Bleeding Cut.

Please note that no videos will be produced in the series for: VK9 Backtrack, VK11 Van Damme, VK13 Screaming Eagle, due to the courses being easy to navigate from instructions and maps alone.
New VK Course "Afterglow" replacing VK2 Black Swan
June 25 2021 - 12:00pm

Change of Course

Afterglow replaces the originally intended VK2 course called "Black Swan". Due to risk of landslide, the access to the swan falls trail is closed and is unlikely to open this summer according to the Buntzen Lake warden (as of June 24th). We have decided to replace this course with Afterglow for 2021. While it is not as steep and longer in distance at 4.5km, Afterglow is a great addition to the series and we are sure competitors with enjoy this route!

Afterglow is a VK course that starts up the Sunset Trail which is a well-marked and technically easy-moderate trail that heads up to Yew Lake at Cypress and connects onto the Howe Sound Crest West access Trail. The course finishes where this trail connects to the Howe Sound Crest trail East (the noticeboard) before you continue on to St Marks summit.

Read full navigation instructions on this course here

The other change is that the "Lions" group has now been renamed "Sea to Sky" and now encompasses 5 courses instead of the originally planned 4. The Afterglow course is included as part of the Sea to Sky group. Originally, the Black Swan course was one of the backcountry courses, but now this group has been reduced from 4 courses to only 3.
You can now Change Your Password
June 22 2021 - 1:00pm

New functionality

I have released new functionality that now allows you to change the default password to your account to any of your choosing. You can change your password here
Timing Your Effort
May 31 2021 - 4:00pm

Three-Day Submission Window

In fairness to other competitors, you must upload your VK attempt within three days of completing your run, otherwise your time won't be accepted.

We won't be accepting your word on completing the courses.

You must GPS record your activity in some way to provide evidence of your attempt in the same way you would for any type of FKT (Fastest Known Time) attempt.

Make sure when starting your watch or Strava phone app, you do so in the open air and let the satellites connect up for a solid 5-minutes before heading under the forest canopy. This will give you the best chance for the most reliable GPS track.

I also highly recommend you sync your watch with your watch service before each attempt to get the latest satellite information on your device. This also gives you the best chance of accurate GPS tracking.

Our recommended option for timing your attempt is to upload your activity to Strava. If your GPS track is good, your attempt will link up with the Strava segment for the VK course, where you can then easily determine your time. I will be setting up Strava segments for all the courses.

To submit your attempt, from the series dashboard, you will click the "Submit Your Attempt" link and on this page you can copy and paste the Strava activity link into the submission form and input your time. With this method, your attempt will go live on the website immediately and appear on the leaderboards; however, your time will be marked as unverified initially – and within 24-72 hours it will be reviewed and verified. If for some reason your attempt is deemed ineligible, the leaderboards will be subsequently recalculated to exclude your attempt.

To get the Strava link, copy the activity URL from your web browser. Or from within the Strava mobile app, click on "Share Activity" then under "Share Using" select "More" and choose "Copy to clipboard." You can then paste the link into submission form.

The accepted formats are either:

https://www.strava.com/activities/XXXXXXXXXX or https://strava.app.link/XXXXXXXXXX

If for some reason you can't determine your time, the Strava segment didn't link up, or you had major GPS issues, you have the backup option to submit your Strava link and let me figure it out for you (I make no promises though). With this option, your attempt will not go live on the website immediately, as it may take up to 24-72 hours to be reviewed.

I highly recommend you use the Lap Timer on your watch as secondary back-up method to timing your effort in case the above scenario occurs. Your timed laps will appear in the GPS file/strava activity and aid in evidence for your time. You can also use RunGo app to time your run – and it has its own leaderboard for the VK segment. Just remember to start and stop the timer on the app yourself (it doesn't automatically detect your time when you cross the course start and end points like Strava does). When using RunGo search for the name of the course by typing "VK" then the name of the course: i.e. "VK Completely Necessary" or "VK Van Damme" to find the route and then begin your attempt. Please contact RunGo support if you need help using their app for navigation. Noah Bloom is aware of our series and will be able to help you out.

If you don't want to use Strava for privacy or other reasons, we also allow you to directly upload your GPS file (I accept TCX, GPX or FIT format). With this method, your attempt will not go live on the website immediately and take up to 24-72 hours to be reviewed, time determined and approved for display.

If you are having trouble copying the link from Strava or submitting your attempt, please feel free to contact me at support@verticalkm.ca for further assistance.
Safety First and Going Off Route
May 31 2021 - 4:00pm

There are two rankings in the series: for fast times and power rankings for attempts.

To set a fast time you need to complete the entire course from start to finish. If you go off-route, your time will still be accepted as long as you didn't gain an obvious advantage by doing so. If you don't make it to the top, or if you short cut the route (more relevant in courses with downhills), your time will be ineligible for obvious reasons.

However, for the power ranking points you don't necessarily have to complete the full course. For any of your attempts (failed or successful) please upload them all to the series, because you may still get power ranking points even if you fail to finish the attempt as long as there was a reasonable circumstance that prevented you from finishing. Some of these accepted circumstances are:
The weather changed and you took a safety-first option to turn back.
There was some hazard or closure on a course that prevented you from going further (in this case please let us know so we can warn other participants).
You took a wrong turn and didn't make it to the finish point.
You took a wrong turn and did eventually make it to the finish point but not entirely via the official route.
You reached a part of a course where you were feeling uncomfortable with proceeding due to it being outside your level of comfort or ability and you turned back.
The last thing we want is someone having an accident because you tried to push through a part of the course beyond your level of ability in the attempt of securing a badge and some power rank points. Be safe, turn back, and you will still get marked as a VK attempt and get the attempt badge for the VK route. Remember, its often harder to come down a steep course than it is to go up, so bear that in mind when making a decision on whether to proceed.
For example, our steepest course VK1 Completely Necessary, has a few brief sections of scrambling up some quite steep terrain or rocks that some people might find confronting – one in particular about 800m ascent up the course when you will be tired. As an example, if you are aiming to complete all 20 courses in the series, we will accept your attempt on VK1 even if you turned back because you weren't feeling comfortable in proceeding. Just let me know the reason for not completing the course when you submit your attempt and you will still get the power ranking points and course badge awarded. What matters most is you got out there and had a go, but also kept yourself safe, and that warrants reward.
Ultimately, when submitting a failed attempt, please let us know the reason for not completing the course. To get the power ranking points you must have made a reasonable effort to start and complete the route. Whether the attempt qualifies will be made on a case-by-case basis.
Website Course Distance Might Not Match Your Phone/Watch
May 31 2021 - 4:00pm

Our courses have specific distances listed but these are simply the distances estimated by the route builders. In reality, these predicated distances can often run a bit on the short side. Typically, your on foot distance will increase above the predicted distance as you traverse over obstacles on the actual trail, and also GPS drift can contribute to inaccuracy of distance upward or downward as well. Don't navigate your effort on the expectation that the distance (or elevation) you see on the watch will be the end point of your attempt.

The worst thing you can do is stop your attempt early since your time won't then qualify. For the best outcome, plan to overshoot the finish spot just to be on the safe side. While our Grouse/Fromme courses have understandable finish locations, our Lions Bay and Backcountry courses will sometimes finish before you reach the top of the actual climb you're on.

If you have a barometer on your watch, set the elevation of your watch to a known elevation point before starting your run and determine the elevation of the course finish prior to your attempt. Then you will know precisely where it ends.

Ultimately, make sure you study the course instructions closely and view the start and finish line photos/video so you have a visual sense of what you should be seeing when you finish the course route.
Navigating the Courses
May 31 2021 - 4:00pm

I will be doing everything I can to provide clear photo and video demonstrations of the courses, as well as providing downloadable GPS route tracks.

Part of the challenge of this series is learning to navigate a course route without markings you will find in regular races. In races, everything is taken care for you when it comes to course markings, but unfortunately, we are unable to mark the routes for you (despite our best attempts).

I urge you to consider this series as more of a form of orienteering. While I provide you with a course to follow, you might end up off course at some point. In regular races, this will typically result in a disqualification. However, in this series, I may still accept times where there is a slight variation on the route. Begin at the start point and finish at the end point and how you got there doesn't matter so much. Our courses are designed to take the fastest route from A to B. However, on our courses featuring downhill, please don't cut the elevation or your time will be ineligible!

One of the biggest challenges in this series will be the turnaround points on some of our courses containing downhill sections. I will accept your time if you overshoot the downhill, but if you cut out some of the ascent, I will have to rule your time ineligible for obvious reasons. So if you mess up the navigating, you can still upload your attempt to get the power ranking points and badge for the course attempt.

When you are going for a fast time, you don't want to have to stop and think about which way to go. If you are unfamiliar with a course, I recommend you do a scouting mission first and potentially navigate a course several times … comparing your GPS track to the official course route before you make a fast push.

For each course you are unsure about, I advise that you download the course route GPX file to your device (watch or phone) to aid in navigating and please watch the video demonstrations of the course before heading out for your attempt so you are completely familiar with what you will visually see on the trail. You will find the GPX files on the website course pages once the series commences.

You may also like to try using the RunGo app (https://www.rungoapp.com/) built by North Vancouver based trail runner Noah Bloom. All the VK routes will be available on the RunGo app. The app features guided audio turn by turn navigating so you can run the course without having to look at your phone, and the phone will tell you which way to go at intersections. It also helps you time your attempt. I've tried it a few times, but it can be hit and miss since it relies on the GPS signal in your phone which is not always accurate in the forests and gullies of the North Shore mountains. Sometimes the app can confuse you by asking you to turn where there is no turn, but I will be working with Noah to resolve some of these issues and make it as useful as possible.

You may not be able to solely rely on RunGo but it can be a useful aid in combination with other methods. Watching the course demonstration video and studying the instructions will still be your best bet.
Please Support our Sponsor Bremner Foods!
May 31 2021 - 4:00pm

We are delighted to have Bremner Foods as our major title sponsor. Terry Bremner, the owner of Bremner Foods, has been a highly valued and very generous sponsor of Trail Running in Vancouver dating back many years. Check out all the races across the region, whether it is Knee Knacker, or CMTR series, Fat Dog etc… and you will see Bremner's listed as a sponsor.
Bremner's offers both Organic and Natural pure juices and uses a juicing process that does not compromise on taste. First, they use only fresh grade quality berries, the same as the ones you would eat. Most juice producers use "juice grade". Second, they don't add anything artificial. No additives, sugar, water, preservatives, or juice from concentrate.
Each 946 ml bottle of Bremner's juice is made from 2 1/2 lbs of premium quality fruit picked at the peak of perfection. Bremner's Organic juices are Certified Organic, and all others are naturally grown using organic practices. Taste the difference true quality makes!
You can find Bremner's juices at Whole Foods, Urban Fare, Save-on-Foods, London Drugs, Choices Markets and many other local retailers.
Stay-tuned as Bremner's will soon be launching new Juice Pouches you can take on your trail runs!
Terry (below) checking out the downhill on VK15 Jet Fight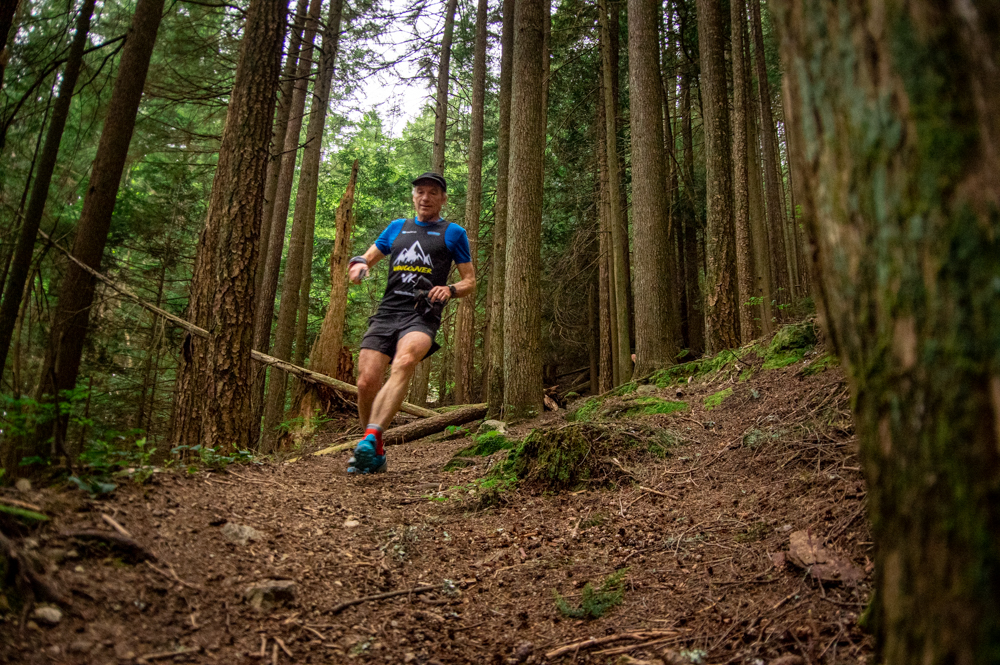 Terry leads the Bremner's Racing Team, which participates in many racing events throughout the year. Team Bremner members will be rocking the new black VK Series singlets on the trails this summer, so if you see them out on the trails please be sure to say hello!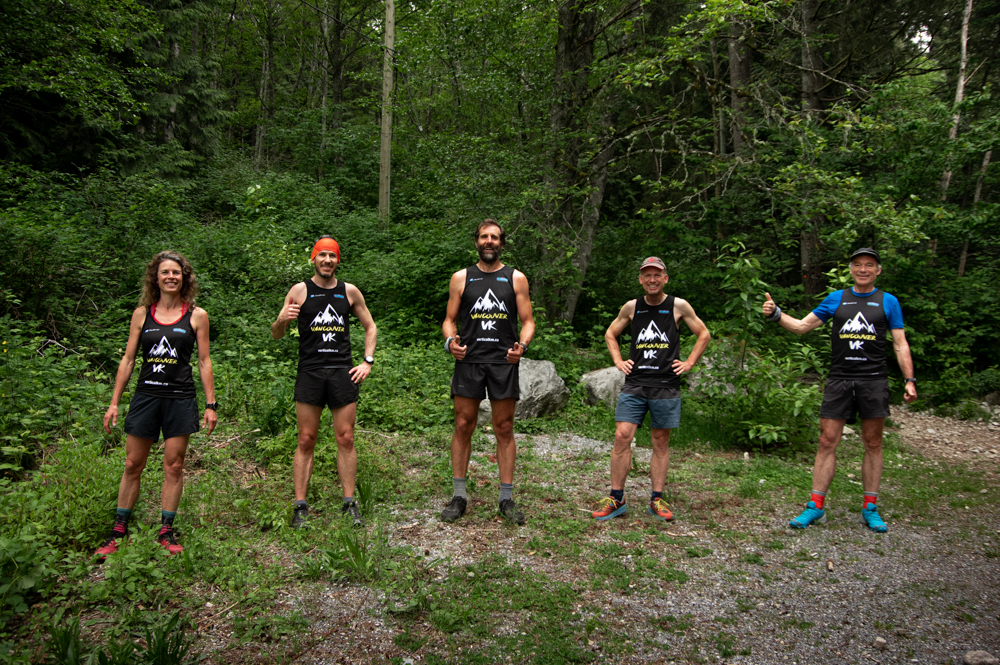 The Vancouver VK Series is Proudly Sponsored by Bremner's Foods a local Vancouver based company.
Check out their premium products on Bremners Online at:
www.bremnerfoods.com